Breathe Easy With
Calgary Duct Cleaning Services

PROFESSIONAL
FRIENDLY & KNOWLEDGABLE

EFFICIENT & THOROUGH SERVICE
DONE RIGHT EVERY TIME.

TRANSPARENT & AFFORDABLE PRICING
NO HIDDEN FEES!
Air duct Cleaning That Makes a Difference
Do you find your home is dusty even after you've cleaned? Do you have pets? Does a member of your household suffer from allergies? Are you concerned about the quality of the air you breathe in your home every day? If any of these considerations resonate with you, then regular duct cleaning in Calgary is essential to you and your family's well-being. We provide straight forward and efficient duct cleaning services that effectively remove dust, dirt, animal hair, allergens and other pathogens that collect over time in your furnace and ducts. Duct Cleaning also ensures your furnace is operating at peak performance, as it was designed. Don't forget about Dryer Vent cleaning!
Breathe Clean Air and Save Money with an ADVANPRO Furnace and Duct Cleaning service.
When you choose ADVANPRO to clean your furnace and ducts, you can rest assured that the job will be done correctly, with the best in class equipment. Our knowledgeable, highly trained and experienced technicians are equipped with the latest technology. We use only the top of the line truck mounted, high volume vacuums and compressors to service you best.
Our goal is to keep your living environment comfortable and the air you breathe clean and fresh.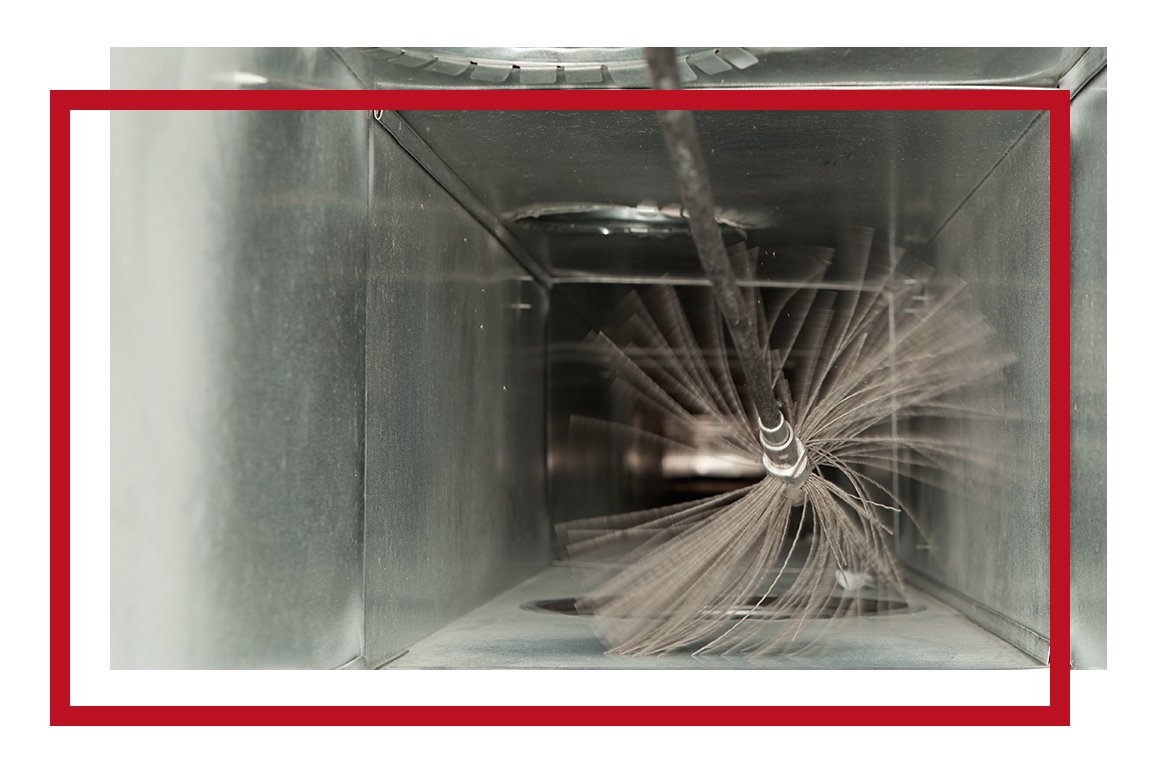 Achieve Exceptional Air Quality
With Calgary Duct Cleaning Services
We've earned our reputation as a leading provider of duct cleaning in Calgary by providing exceptional customer service along with fast and efficient work. Regularly having your furnace and ducts cleaned is the best way to eliminate allergens from the air you breathe, manage allergies, asthma and other medical conditions that affect your respiratory system.
While you're having your ducts cleaned, our professional service technicians can also provide peace of mind with preventative maintenance tune up to your furnace or air conditioner.  Tune ups help to ensure your equipment is functioning at full capacity and efficiency. We'll also flag any potential future issues before you're left without heat or cooling. Breathe easy knowing that your Furnace is operating in at top performance this winter.
If you think it's time to upgrade your home comfort equipment, we also offer top quality, professional air conditioning installation and furnace installation by one of our experienced and licensed installers.
Wow, these guys are amazing. Not only did Adam try to troubleshoot over the phone so that we could avoid the cost altogether, but when they did need to send someone they came the next day. Steve was terrific. We are now Raving Fans. Tx!
Thanks very much for the excellent follow-up and links for the rebate, city inspection contact #, and warranty registration. You, Don, Patryk P., and Sara plus the rest of the AdvanPro team are the absolute BEST when it comes to customer service, quality work, thoroughness, and satisfactory pricing. I am extremely happy with the results and appreciative of your service. Thanks again!!
I used ADVANPRO about 2 years ago for duct cleaning. They were excellent then and are still. Steve and Peter arrived early and did an awesome job. They identified a few issues with the furnace, and replaced the affected parts while there as well. Would highly recommend.
The service experience, from phone-call to finish, was professional. The work was performed expertly. Even where an issue with potential to cause problems was presented (issue was due to a sloppy install on a portion of the duct-work originally) they offered an effective and reasonable solution. Another service company could have raked the situation and added unnecessary expenses and huge inconvenience. Really appreciated their work!
We had Jeff and Sam who cleaned our ducts and brushed our vents. They also checked our furnaces and did some inspection and cleaning. They kept us advised every step of the way on what was needed, and did a very professional job. Definitely will use this pair with this company again.
My experience using ADVANPRO last year was excellent so I didn't hesitate to book my annual furnace/duct cleaning with them again this year. Sam & Jeff did a great job and Sam gave me a few tips on cleaning my filters which were greatly appreciated. Thanks again and I will be booking again next year.
I pay for good service so I expect that, but I will write in for exceptional service. Leo and Alvin came over to do the brush duct cleaning package and were professional, thorough, very knowledgeable, and respectful of my concerns and even had me look at the duct work to prove I didn't have the problems I thought I did [once they investigated]. I've dealt with every trade with my renos this year and this was just a great job well done. I highly recommend them and will make sure all my friends use them!
I ordered an AC installation, after quoting prices with other companies, and I do recommend this company. The installation was fast and professional, and the customer service is very good, as they are focused on answering your questions and solving any problem that you have. The technician who installed my AC and gave me further assistance (Orrin Esau) is a professional driven to perform the best work and to help you whenever you need.
Furnace wasn't working, I called for a service Adam came to my house extremely professional and very friendly, fixed the problem did what he had to do and done. Amazing service
We've used ADVANPRO in the past for furnace cleaning and when our furnace wouldn't start after 2 weeks away on vacation, I called them for a service call. Steve was in the house all of 30 seconds to solve the problem. I also got an explanation of the problem related to a combustion air damper that I had never received before….one that finally made sense. Thanks for the quick response and the quick fix .
My air conditioner stopped working and my daughter told me about Homestars site. I phoned two other air conditioner repair sites and my call wasn't even returned. I phoned ADVANPRO and was told a repair man could come out in two days. Adam quickly found the problem, replaced the part and checked the air conditioner. I was impressed by his service and knowledge and the price was very fair. I would certainly use ADVANPRO again.
CUSTOMER REVIEWS AND RATINGS