Many Calgarians are interested in doing their small part to transition to a more sustainable lifestyle.
The challenge is that today's next-generation green energy technologies for homes can come with a hefty price tag.
The good news? Individual homeowners can apply for a program that can significantly lower the costs. It's called the Canada Greener Homes Grant.
Here's what you need to know… particularly if you're interested in dramatically increasing the efficiency of your furnace with an air-sourced heat pump after reading our recent blog!
You can apply for up to $5,000 in grants plus interest-free loans!
The Canada Greener Homes Grant provides between $125 to $5,000 for eligible home retrofits. The bigger the upgrade, the bigger the grant!
Through the grant, you can also apply for an interest-free loan for up to $40,000 (up to 10-year amortization). It's a welcome way to help you manage any big-ticket renovations.
What energy upgrades are covered?
There are many ways to make a home more energy efficient. As you can see by the chart, this grant covers the spectrum.
Interestingly, high-efficiency boilers and furnaces are not covered (except for those living in northern communities or off-grid). The intention seems to be to encourage Canadians to make the switch to newer technologies such as heat pumps.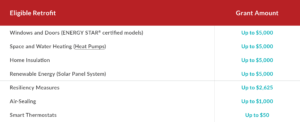 For full details, check out the Canada Greener Homes Grant website.
You'll need an inspection. That's covered too!
As part of the program, you are required to have an approved Energy Auditor visit your home to compile a report on opportunities to save energy. There is a reimbursable fee for this (roughly $500), which is returned once upgrades are completed.
Eyeing up a Heat Pump? Talk to Advanpro!
So, you've read our previous blog explaining what heat pumps are and why they're changing the way we heat and cool our homes. Now what?
With the Canada Greener Homes Grant, there's no better time to show you're a sustainability leader while getting a major break to help cover your costs.
Here are the steps involved:
Apply for the Canada Greener Homes Grant
Visit the Government of Canada's Greener Homes Grant website. Fill out the application (it takes approximately 10 minutes).
Select an Energy Auditor and Schedule a Review
You'll be asked to select a locally-based energy auditor from an approved list.
The auditor will reach out and schedule an appointment for a home visit.
They will inspect your home for opportunities to improve energy efficiency and submit a report within a couple of days.
There is a $500 fee, which is fully reimbursed once all of the work is completed and verified.
Homeowner Receives Grant Pre-Approval
Based on the Energy Auditors' report, you will receive a notification pre-approving the grant amount. You're ready to move forward!
If you decide to, you can also apply for the Canada Greener Homes loan. You'll need at least one cost estimate (which Advanpro can provide). The loan will be provided once the work has been completed and verified (Step 5).
Contact Advanpro to Install the Heat Pump
Now you're ready to call the team at Advanpro to purchase your new heat pump and have it professionally installed. The installation typically takes 1 full working day.

All installations are covered by Advanpro's industry-leading 10-year parts and labour warranty. We can even remove and dispose of your old equipment.

If you decide to go for the loan in addition to the grant, 15% of the approved loan amount will be issued prior to the commencement of work. The balance of the loan and the $5000 grant will be sent upon completion of the upgrades and final visit auditor sign off. You will need to pay for the installation upfront and be reimbursed for the eligible amount once the work is verified.
2nd and Final Energy Auditor Inspection
Before sending you the grant money, the Government of Canada will require proof that you followed through on the upgrades. An Energy Auditor will perform a follow-up inspection. They will notify the program administrators, who will put your cheque in the mail.
Rest Easier Knowing You're Doing Your Part
At the end of the day, Calgarians are upgrading to energy-efficient solutions out of a genuine desire to take personal responsibility for their actions and impacts. Getting a few dollars back for doing the right thing helps make that decision a little easier.